That's what our Polish pastor calls it, but it's really
insulation
(our parish just got a complete insulation makeover) and long rolls of the fluffy yellow fibers were installed in the kitchen this afternoon. The house is a bit more snug already. Yet, no wall in this house is insulated at all, except for the kitchen now. It's amazing that we haven't all frozen, but it explains the kitchen pipe issue. The pipes run right along the outer wall, and through a hole in the floor that leads under the kitchen. I'd call the space under the kitchen floor a crawl space, but it's too small for anyone on all fours, or even flat on one's stomach. Either way, the walls get cold, and the pipes--even the drain pipe--freeze each year. Not anymore, we hope.
There is one corner of the kitchen left to demolish. The old plaster is in great shape, but the lack of insulation means the walls will have to come down. It's a messy job, so I'll leave it to Trip and Don this weekend. Kitchen by Christmas?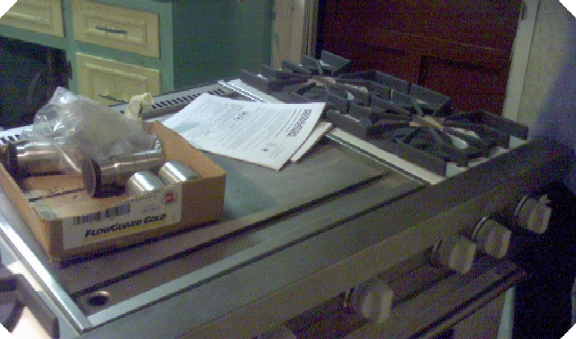 Will the stove be hooked up by then? ;) I could make pancakes for Christmas breakfast. Look at that 24" griddle!